List of Upcoming Electric Cars in India
Mahindra is a first to introduce an Electric Car E2O after this brand is preparing to launch Mahindra eKUV 100 in Auto Expo2020.

The Price of Mahindra eKUV 100 is about Rs. 8.25 Lakhs (Ex-showroom Delhi) making this electric vehicle as an affordable SUV in price is still not announced.

The Range of eKUV 100 is 147 KM which is half of Tata Nexon Electric vehicle. Battery capacity of this electric vehicle is 16 KW Lithium Ion Battery.

The Battery takes 50 Minutes to charge 80% with fast charger option. The Mahindra developing its battery pack by using LG cells Chemistry for the the market, rather this price is only for commercial use, for private use advanced Lithium ion technology.

eKUV gets Motor which has rated power of 54 PS and comes with torque of 120 Nm. This is good for daily city traffic commute at this range of price.

As comparing with conventional fuel KUV the differences found at Front grill. Rest experience is same at inside the cabin.

It Also comes with features like Pre cooling of the cabin and vehicle tracking. Apart from this Micro electric SUV offers safety features like front seatbelt alert, parking sensors, dual airbags ABS with EBD and over speeding alert.Ca
Affordable electric cars list also include this GWM ORA R1. This is a small hatchback introduced by Chinese Auto Manufacturers Great Wall Motors at Autoexpo 2020.

We compare dimensions and size of this vehicle with the Maruti Suzuki Alto K10. Interesting thing is that GWM offers two battery option of 28Kwh with Maximum range of 300 KM and 33 Kwh Lithium Ion Battery pack which gives 350 Km of range.

 The Top speed of GWM ORA R1 is 102 Kmph and Power is of 47 PS with 120 Nm of Torque is available. This is good for bumper to bumper traffic.

At exterior this comes in dual colour combinations, and with two colour option that is Sky Blue and Green. Interior space and cabin is completely utilised as it is Electric vehicle.

Inside of the vehicle comes with three spoke multi functional steering wheel with steering mounted audio controls, dual pod Instrumental cluster, 9 inch touch screen floating infotainment system and with connectivity features and also gets Tyre pressure monitoring system like features. Rest this electric vehicles comes with all necessary functions.

GWM R1 Gets fast charging option which can achieve 0-80 % of charging in 40 Minutes that is appreciable. GWM ORA R1 release date will be estimated in 2021.

 The price of the electric vehicles is approximately in between Range of Rs.7.13 Lakhs to 8.27 Lakhs (In China), with government subsidies GWM ORA R1 will price at Rs. 6.5 Lakh which is more impressive.
Bird EV1 is an Electric Hatchback vehicle category launched by Bird electric which is American company and collaborates with Haima a Chinese based company.

Bird EV 1 gives the claimed Range of 200Km with 20.42 Kwh Battery option. This electric vehicle has a top speed of 120Kmph and Torque of 95 Nm which is good at all.

The cabin looks so premium that you would like. Features of Bird EV1 get digital display driver console and infotainment system. While with exterior aesthetics this looks quite conventional. Wheels are of 14 Inch Alloy and gloss black finish.

The material and plastics where quite looks upmarket for this type segment. In terms of feature if Bird EV 1 it comes with full coloured digital instrument cluster for the driver and a large touch screen for infotainment and other features like climate control,

USB charge socket for the rear seats and drive select buttons like the drive, neutral and reverse functions.

We expect the Estimated price of Bird EV1 will be about Rs.10 Lakhs. We can compare this 5 seat Hatchback vehicle size with WagonR. Estimated Release date of Bird EV1 is in year of 2022.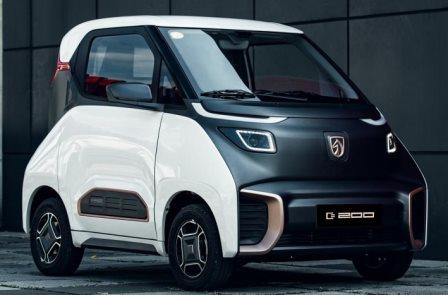 MG E200 only makes of city use as we looks for its small size and comes with 2 seater EV option. This vehicle measures in at just 2.5 meters in length and has a turning radius of 3.5 Meters.

We can compare its size with the Indian Manufacturer's Bajaj Qute and it is 676 mm shorter than a Tata Nano. Weight of this EV is only 800 Kg.

You will get a digital instrument cluster few switches and manual controls, 2 spoke steering wheel inside of the MG E 200 and basic dashboard design. The key factor is only its affordable price by MG and a low cost high range EV.

MG E200 car has been claimed range of 200KM by an NEDC certification over a fully charge. E200 Has battery capacity of 24 Kwh and it has 40 PS of HP so it's not really quick but we can say designed for urban commutation.
Renault Kwid is a very popular entry level hatchback comes with its 100 % electric version of Renault Kwid ZE or Renault K-ZE and it is a first electric car for India by Renault and it is based on the CMF – A platform.

Renault KZ –EV gets its particulate PM 2.5 sensor, 8 inch touch screen and infotainment system in the Inside the vehicle.

Size and dimensions are same as that of Kwid but only 30mm reduction in Ground Clearance has been found that is 151 MM.

It has length of 3735 MM, Width of 1579 MM and Height of 1515 MM. Wheelbase is of 2423 MM and stylish 14 inch alloy wheels.

The motor of Kwid ZE produce power of 44 PS and torque of 125 NM at the front wheels. Whereas this has battery capacity of 26.8 Kwh which gives claimed Range of 271 KM.

While the battery takes 30 Minutes to charge with 30-80%, but for 0-80 % quick faster charger it takes 50 Minutes.

This EV is available in China. Now Renault showcase in Autoexpo and promises that they will introduce this electric vehicle with mass market in India.

Renault Kwid ZE will release in India approx in year of 2022 and it will become most affordable electric vehicle in India when sale goes on.
After Nexon Tata Showcase first impression of its Altroz EV in Autoexpo 2020 which looks quite different with petrol engine Altroz.

Tata Altroz comes with Crystal LED Headlamps and Difference in design at the front grill and try arrow close bumper also inside at central console added with blue detailing across the cabin and white colour elements because gear lever is elevated and comes with automatic gear box.

Estimated Range of Tata Altroz EV is 350 Km from its Lithium Ion battery pack as that of Tata Nexon EV.

It also gets power of 129 PS and 245 Nm of torque which makes it powerful Hatchback in the Electric vehicle segment.

It has a Tata's Ziptronic power train which is combined with the permanent magnet AC motor. As per performance it takes 10 sec to reach from 0-100 Kmph.

Price of Tata Altroz EV is placed approx 12 Lakh to 14 Lakh. A good performance with ample range of vehicle in city commute makes this choice for Eco conscious buyers.