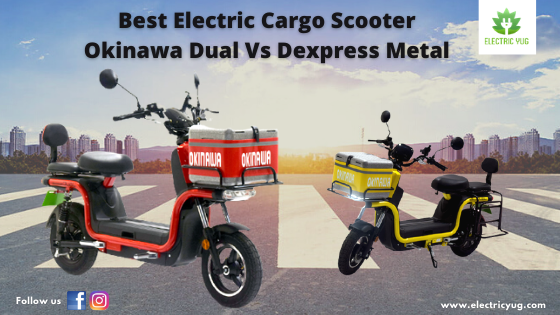 Is Okinawa a Chinese company?
What is the price of Okinawa Dual Electric Scooter?
In this Blog you get details complete answer about the Okinawa Dual Electric Scooter.

The leading brand in electric scooter has launched a new electric scooter called the Okinawa dual and it will cost nearly 60,000 Indian rupees. Okinawa is an Indian company plans to invest 150 crore rupees in setting up a new manufacturing plant in Rajasthan and it targets selling 1,00,000 units in the next financial year.

Okinawa is very ambitious about their electric products. This Okinawa Dual Electric Cargo scooter will be very beneficiary for all types of cargo loaders. The Indian delivery market is growing day by day that it is valued by 6 billion dollar which could reach by 30 billion dollar by 2022. Overall delivery business is so huge in coming years in India as well as the rest of the world.

Okinawa Dual Electric Scooter 2021 is made for delivery purposes. This electric scooter is low in maintenance, operational cost is also less. According to Okinawa this bike is durable for daily continues commutes and also so light to ride. 
Okinawa Dual Electric Scooter Review
The main structure of the Dual is made of tubular frame using High-carbon Steel material. It is strong enough to safeguard the driver and the material for delivery. Negligible use of plastic is adopted to build environment friendly, low maintenance vehicle. Due to its strong body and tubular structure it will have much less damage on any collision compared to other vehicles.
The Okinawa dual can be loaded with cargo at the front as well as at the rear it will have a curb weight of 75 kgs where it has 200 kilogram load carrying capacity. The top speed of vehicle I restricted to 25 kilometers per hour as it is a delivery vehicle which means you can ride Okinawa electric scooter without license and registration same as Okinawa Ridge and others Okinawa electric scooter does not need license.
Okinawa is also offering accessories like delivery boxes and cold storage containers 96 of the dual is going to be localized and Okinawa makes aims to make this 100 by April 2021.
Dual will comes with a 48 volt 55 amp hour that is 2.644 kilowatt hour battery pack it will have 200 kilometers range per single charge. Battery can charge up to 80 percent in 1.5 hours. You can carry the convenience of charging anywhere with the Detachable Batteries. The ease of access ensures you're always just a plug point away from riding on.
The vehicle gets BLDC hub motor which is of 250 watts rated power. Okinawa Dual has features like, Electronic ABS system with regenerative braking, phone holder, USB charging, side stand sensor, easily removable seat, and LED tail lamp, bottle and bag holder. The battery is portable and comes with Micro charger with auto cut facility battery charger options.
Dual has color options like Sunrise yellow and Glossy red. Company offers 3 year of vehicle warranty and 3 years warranty on the battery. This warranty will cover repair and replacement at no cost. This specification is more practical for basic delivery businesses for the delivery of their products. 
Mr. Jeetender Managing director and Founder of Okinawa auto tech Pvt. Ltd. said that "With our new electric two-wheeler Okinawa dual, we aim to electrify last mile delivery for businesses in India marking our entry into the b2b Electric vehicle segment. Okinawa Dual is a one of a kind scooter that is said to disrupt the market the company also plans to invest rupees 150 crore in setting up a new manufacturing unit in Rajasthan. The new facility will have an annual capacity of 5 to 6 lakh units in the first phase and can go up to 10 lakh units in the future."
Who Copied Whom? Okinawa Dual Vs Dexpress Metal
The Okinawa Dual looks very similar to the Dexpress Metal Electric Cargo Scooter. However Okinawa first revealed the first look of the Dual Electric scooter after that Dexpress Launch their Metal so the question is same that who copied to whom?

There are some serious internal differences between this two Electric cargo scooters that the Okinawa has a 48 volt system whereas the metal has a 60 volt system also the Dexpress scooter had a killer component that the dual does not have and that is a Bosch motor the Dexpress had a color LCD display while the dual display seems to be standard.

It seems to us that Okinawa has changed the battery motor controller switches LCD and wire harness to reduce costs while the Okinawa sets the on road price of Dual electric at rupees 58,000 in India the Dexpress metal retails at 71 to 78,000 which is so costly as comparatively to after sales service provided by Dexpress Team.

Okinawa has excellent experience in the individual consumer space but the cargo loader space is an entirely different beast so it remains to be seen how Okinawa's service and support systems cope with the extra rigor being put on their EV's nevertheless. We wish the Okinawa team for the best
Pros
Long Range battery pack.
Safer and Durable batteries.
Comfortable seat for longer drive.
Space provided is more
Cons
Standard cluster meter.
Less leg space floor board.