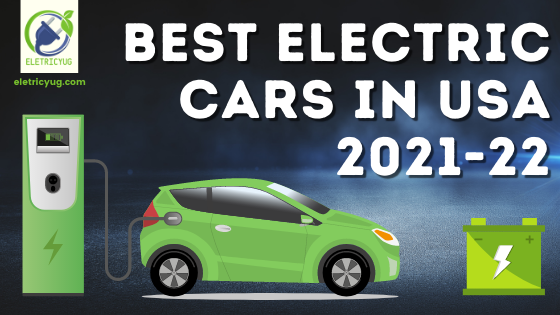 If you've been thinking of switching over to an electric vehicle, you're in luck. There's no shortage of great choices, and they're even more on the way. Here is the list of Best Electric Cars in the USA by 2021-22.
The popularity of electric cars is growing day by day. Just a few years ago electric cars were pretty rare and very expensive but now there's a huge choice across many budgets and classes, but what's the best you can buy?
Here, then, are some of the best EVs you can buy as rated and ranked by the Team Electricyug!
Team ElectricYug is concerned about the environmental changes and puts little effort into promoting the electric vehicles and renewable energy sources. In Today's blog of electric scooters we will mainly focus on Best Electric Cars in the USA by 2021-2022.
BEST ELECTRIC CARS (COMPACT) IN USA
Overview:
Mini Cooper SE is the best Electric car in a small hatchback based on the Two Door Mini Hardtop. 
It gives quick acceleration at driving due to its high power and torque and also it is least expensive among other electric cars.  
Mini electric can charge by 50 kilowatt fast charger and you will be able to get an 80% charge in half an hour.
The good news is that on a 50-kilowatt fast charger, you'll be able to get an 80% charge in around half an hour.
Small seats and limited cargo space makes this car urban car, who wants to drive rarely at cool travel pods beyond cities.
REASONS TO BUY: 
The 2022 Mini Cooper is the most affordable EV in the segment. With lots of standard specs & features this EV is fun to drive.
REASONS TO DON'T BUY: 
In Practically Mini Cooper Electric has short driving range; seats are not comfortable and unsolicited traction control feature. 
Ratings:  2.5/5
Overview:
Nissan Leaf is the world's bestselling electric car. Since 2010, it's sold more than 4,00,000 units globally and in the UK it enjoys a 36% share of the fast growing EV Market.
Nissan Leaf has the new Rivals like Hyundai Kona Electric. That's why Nissan Company launched the Second generation Leaf, and added a new long range topping version with a bigger battery.
The more significant changes are under the bonnet or under the floor actually. This range topping model gets a 62 kWh Battery which joins the 40 kWh battery at rest of the Leafs in the lineup.
This Enhances the Leaf's range to 239 Miles on a full charge, under the new WLTP test cycle, which is a 62 miles increase on the standard model.
Nissan Leaf Features include 8 Inch touch screen infotainment system, 7 Bose speakers stereo, plus you get Nissan's Pro pilot semi-automatic driving assistance, which lane keep assist and adaptive cruise control.
The Nissan Leaf gets more power that is peak power is 160 Kw supposed to be the standard variant, which gets 110 Kw. It also gets 339 N-m of torque, and increased top speed of 97 miles per hour. It is really Quick.  
So if you are planning to buy a Nissan Leaf E+ Tekna we'd actually be tempted to stick with the cheaper standard version, if you can cope with the range. That's because those models ride better and they can still get 128 miles off a full charge in real world driving conditions.
Where Leaf is starting to feel a bit of the pace, since the Kia e-Niro and Hyundai Kona Electric have come along, they've made this Leaf E+ look very expensive, that because both that car have longer range   
REASONS TO BUY: 
The 2021 Nissan Leaf E+ Tekna is still relatively soft, which is fine around town. Leg room is decent and good boot space.  
REASONS TO DON'T BUY: 
Practically the Leaf is 150 Kg heavier than the previous model, at higher speeds the vehicle is completely unsettled and in bumpy roads your head will bob constantly back and forth, that's feeling annoying at driving.
Ratings:  3/5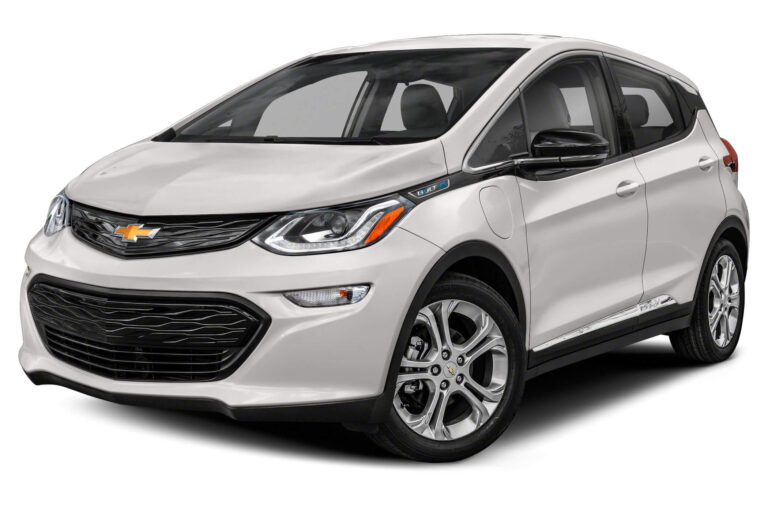 Overview:
The Chevy Bolt gets an honorable mention for its 259-mile range, $38,000 price tag. it's spacious interior. If its interior were nicer and ride quality smoother, the Bolt would likely have placed higher.
2022 Chevy Bolt looks much more futuristic and aggressive and comes with 2-variant LT & Premier. The big change in bolt EV is adaptive cruise control system and lane departure assists a really much needed upgrade.  
2022 Bolt has an electric battery capable of making 150 kw and 360 Nm of torque that sends power to the front wheels. It comes with a 55Kw switch, which is relatively unacceptable especially for a 65 Kwh battery pack.
Chevrolet has increased AC charging rate, with J1772 and CCS Port and 55 kW peak on CCS but 11 kW peak on AC charging now 48 amp which is quite awesome for bolt customers that are used in utility scenarios.
In the Launch Edition version you will get the sunroof and some nicer features. Seat is really comfortable. The Bolt EV and EUV have measured differences like in its length, width and height. Bolt EUV is taller and wider in size.
REASONS TO BUY: 
The 2022 Chevy Bolt comes with really helpful features and with good design. Fast charging increases the utility in urban areas. 
REASONS TO DON'T BUY: 
Chevy Bolt Super Cruise system restricted to SUV models. While tall SUV styling does not suit everyone.
Ratings:  3.5/5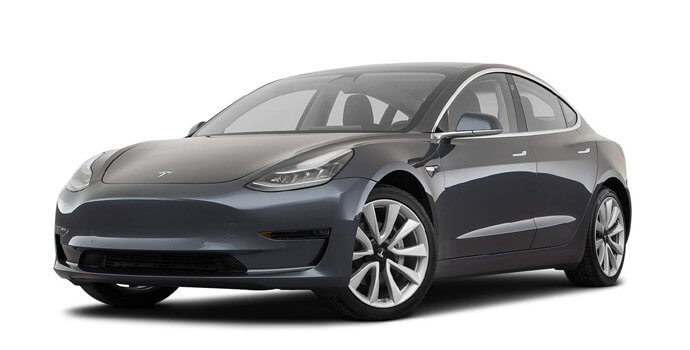 Overview:
Tesla has been leading the electric market for the past decade and the Tesla Model 3 is foremost on the list of Tesla's most affordable electric cars. Tesla's Price starts about $39,990; Long range comes with a price tag of $47,690 & Top model price goes up to $57,190.
In terms of look, all new 2021 Model 3 designs are rather luxurious with state of art technologies in a whole new package. It is an electric fastback midsize four door sedan. It features Navigation, Bluetooth, USB and streaming Radio options as a standard connectivity. Also Model 3 offers entertainment options on its big touch screen central display including YouTube, Netflix and arcade games to make charging stations layover more bearable. There is absence of Android auto or Apple car play systems.
In the 2021 Facelift of Tesla Model 3 various changes occurred by the company. Also the range of model 3 increases in all three variants. The standard Range Plus model claims a driving range of 263 miles per full single charge, performance comes with a range of 315 miles while the long range model is boosted by a 353 miles range which is 30 miles more than previous model.  
There are several options to charge Model 3. Tesla's fast charging stations that are superchargers, adapters for DC public charging stations, home charging stations and also 240-120 volt outlets are available.
Tesla doesn't describe its models by horse powers or kilowatt hours. It has electric motors which are powerful which provide instant torque to vehicles.
REASONS TO BUY: 
The 2021 Tesla Model 3 comes with long range drive, brisk acceleration and sharp handling, good tech features and stellar safety standards.
REASONS TO DON'T BUY: 
In Tesla Model 3 infotainment controls distracts the view while driving, and the rear seat can feel a little cramped.
Ratings:  3.8/5
Overview:
The Hyundai Kona Electric launched back in 2018 with a headline grabbing range of around 28 miles which at the time was pretty much enough to blow all of its rivals.
2021 Hyundai Kona Electric comes with a more aerodynamic design with some changes inside as well. According to official figures it can now manage 300 miles on a single charge.
With a smaller 39 kWh Battery all new Kona Electric trim levels still qualify for grants. You can charge the battery to 80 percent in 57 minutes with 50 kW fast chargers. The 2 kW AC wall box charger for home installation also provided that it takes 6 hours 10 minutes for a full charge.
Company also comes with a small portable 2.8 kW charger that can be plugged into a regular wall socket; it takes up to 19 hours to fully charge the vehicle.
Max Electric power output is about 134Bhp and 390 Nm of Torque it produced. It comes with a single speed transmission. It can reach 0 to 60 in 6.4 seconds. With versatile and powerful performance this electric affordable SUV.
REASONS TO BUY: 
The 2021 Hyundai Kona is a good compact SUV. Also it comes with a lot of standard safety feature, straightforward infotainment controls.
REASONS TO DON'T BUY: 
In Kona electric we feel noticeable Road noise, decent amount of plastic at this  expensive price range.
Ratings:  3.5/5
Overview:
Tesla unveils the Tesla Model Y, a SUV styling to be more affordable to the end of the brand's offering. This is tremendous value for money in the compact SUV styling.
Model Y comes with two variants you can choose from the Long Range and Performance. The base standard range model gets rear wheel drive but long range and performance models get all wheel drive as standards.
It comes with features like all fully automatic window control, control on the steering wheel, 15 inch Touch Screen which have quick controls such as exterior or interior lights, window lock, driving performance and auto pilot controls, the navigation controls, safety and security options, audio and streaming controls, charging details, climate control, heated steering and seats and many more.
Driving range for the long range model is about 326 Miles where 303 Miles for the performance variant. Model Y reaches 0-60 mph in just 4.4 seconds for the long range variant while 3.6 seconds for the Performance variant.
Top speed of Tesla Model Y is about 145 mph which is quicker with a lower suspension and 2 inch wheels on dedicated track mode. With advanced features like self parking and autopilot semi-autonomous driving system for ride in comfort. 
REASONS TO BUY: 
The 2021 Tesla Model Y comes with a good compact crossover SUV with cutting edge technology features, peppy all electric power train and spacious cargo hold.
REASONS TO DON'T BUY: 
In the Tesla Model Y the SUV body makes a higher center of gravity because of this vehicle feels rougher over road.
Ratings:  3.5/5
SPECIFICATIONS
Starting Price: $39,995         Power: 150 kW                  Torque: 309 Nm 
Range: 250 miles                     Top Speed: 160mph        
0 to 60 mph: 8.5 sec
Battery: 82 kWh
Overview:
The new 2021 Volkswagen ID.4 follows the ID.3 but the ID.4 is bigger, it has loads of space, all rounder performance like a SUV with a massive range and purely electric which make this the best family EV.
The 2021 VW ID.4 offers a single electric motor that powers to the rear wheel and it uses an 82 kWh battery pack which produces 201 horsepower and 228 lb ft of torque.
ID.4 comes with a feature as 10 inch center mounted touch screen for standard and a 12 inch screen is optional, smartphone connectivity options, Driver safety aids such as adaptive cruise control, blind spot monitoring and lane departure are standard too.
For 2022 VW ID.4 GTX variant, added the all wheel drive version in the lineup also the range will bump to 300 miles with 219 kW of power. 0-60 mph in 6.2 seconds and Volkswagen claimed the top speed of the GTX is 115mph.
REASONS TO BUY: 
The 2021 Volkswagen ID.4 comes with lots of safety and technology features, spacious interior and impressive real world range as standard.
REASONS TO DON'T BUY: 
Lacks driving verve, a little bit fussy infotainment interface and anonymous styling you might expect from ID.4 in practical.
Ratings:  3.2 /5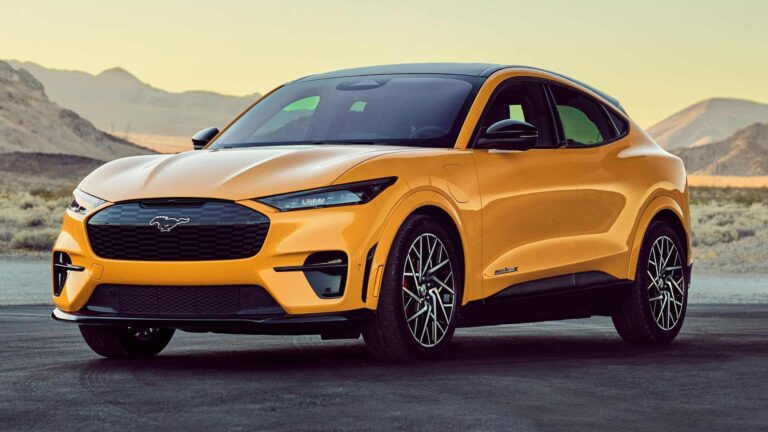 Overview:
2021 Ford Mustang Mach E the car that represents a step change for the Mustang name from screaming V8 coupe to fully electric compact SUV. With a starting price of $42,895 it has a decent range and rear wheel drive.
The features of Mustang Mach E comes with a massive touch screen infotainment system with Apple car play and Android Auto integration as well. The car is impressive with respect to space provided.
The Mach E gets a smaller 75 kWh battery but more power with 198 kW and more Torque 430 Nm. The Mach E does sprint 0-60 in 6.6 seconds and it will go on to 111 miles per hour The WLTP range of Mustang Mach E is about 273 Miles.
On the updated trim, the 2022 Ford Mustang Mach E will be available with new Ice White package and leather panes of the package that look white in the interior. Also it includes 19 Inch Machined face aluminum wheels with Oxford white painted pockets making it a pretty good value for what you're getting.
REASONS TO BUY: 
The 2021 Ford Mustang Mach E has a massive amount of Power and Torque, smooth and quiet ride, excellent driving ability and steps up this Electric SUV at the top.
REASONS TO DON'T BUY: 
There is always a downside in case of Mach E; the rear end may lose traction; it takes some time to get used to.
Ratings:  3.9 /5
BEST ELECTRIC LUXURY CARS IN USA
OVERVIEW:
There are no major changes in the 2022 Porsche Taycan for the upcoming year as there was for model year 2021 when it came out but there's still a lot of exciting changes that we can expect for this upcoming year.
Porsche Taycan Is a combination of driving pleasure and performance oriented that makes it the most engaging EV. High tech interiors, lively steering, stoic composure and refined ride, quicker acceleration, short estimated range but 2022 Taycan is more like a thrilling alternative.
In model 2021 we were not able to use that call plug and charge but for model 2022 19.2 kW AC Onboard charger plug and charge functionality when you're at those DC charging stations such as electrify America in the US. All electric variants have the ability to charge its battery from 5 to 80 % in 22 minutes.
Porsche Taycan gets power of between 350 to 568 kW delivered by a pair of 800 V electric motors. Performance is simply minded destroying 0-60 comes in 2.4 seconds but acceleration is so brutal. Taycan have a top speed of about 165 mph.
Taycan EV features a digital gauge cluster, 10.3 inch touch screen placed in the middle of the dashboard, a vertically mounted 8.4 inch touch screen integrated with the central console. Extra 10.3 inch passenger side touch screen with desirable features, as Apple Car Play & Android Auto, built in navigation and Wi-Fi hot spot. Also night vision, adaptive cruise control, Remote controlled parking added as high tech features.
Porsche Taycan EV is more likely to be the sedan in a more practical package.
REASONS TO BUY: 
The 2021 Porsche Taycan EV is a vehicle with sports car handling, immediate acceleration and just entertaining to drive.
REASONS TO DON'T BUY: 
The price starts over $79,000, max range still not competitive with other rivals in this segment. Touch controls can be distracting while driving.
Ratings:  3.8 /5
Overview:
The 2022 Tesla Model S is still one of the best compelling and desirable EV options in the growing market segment and all new  Model S looks have altered styling.
Inside Model S you will get 3 displays: the massive old portraits central touch screen now has a landscape layout with a new 17 inch unit that can be tilted left or right to give easier access for passengers or drivers with in-car gaming experience too.
New 8 inch touch screen mounted at the rear of the central console giving passengers in back access to various entertainment and comfort functions. And for the first time you can get three zone climate control which allows the driver, front passenger and people in the back to independently adjust their aircon.
The 2022 Model S also has the performance upgrade that now it is available with the long awaited performance focused PLAID Option. So the long range version has a dual electric motor set up with all wheel drive. With upgraded 1006 BHP of power from tri-motor electric powertrain.
Model S is claimed to cover zero to 60 miles per hour in 1.99 seconds with top speed of 200 mph. The Model S also gets the PLAID + flagship model that takes the range up from an estimated 390 miles in the long range to more than 52 miles which is more than any EV currently in series production. 
REASONS TO BUY: 
The 2022 Tesla Model S is so quick that it will make you fun to drive nature with leading maximum range and excellent performance.
REASONS TO DON'T BUY: 
The price factor is not suggested. Driving may be distracted due to the large infotainment screen, which is not that spacious.
Ratings:   4/5
Overview:
Jaguar I Pace launched in 2018 which was the first ever battery electric vehicle with 70 international awards. No doubt the I pace is a remarkable vehicle and Euro NCAP 5 star rating.
The bright exterior pack offers a luxurious and premium appearance in I pace. In terms of power I pace uses two powerful electric motors one on the front axle and one on rear. Each delivers 200 PS and torque of 348 Nm, giving combined total output of 400 ps and 696 Nm. It can sprint 0 to 60 mph in 4.5 seconds.
Jaguar I pace include Battery Capacity of 90 kWh lithium ion pack which provides WLTP range of 470 km. The introduction of an 11 kW three phase AC onboard charger replaces the previous AC kW on board charger helps to reduce charging time.
I pace features such as new ski hatch in rear seat, enhanced meridian audio, driver park assist, 3D surround camera, infotainment system design carefully to minimize distraction and keep you safe when driving. 
REASONS TO BUY: 
The 2022 Jaguar I pace is quicker in operation with graceful performance, has engaging driving manners and its styling makes a statement. 
REASONS TO DON'T BUY: 
The braking feels uneven, sluggish 240-volt charging system, exciting choice in EV segment but not a game changer.
Ratings:   3.7/5
Well this is the complete list of the Affordable and Top Electric vehicles in the

USA by year 2021-2022. Stay Tuned!