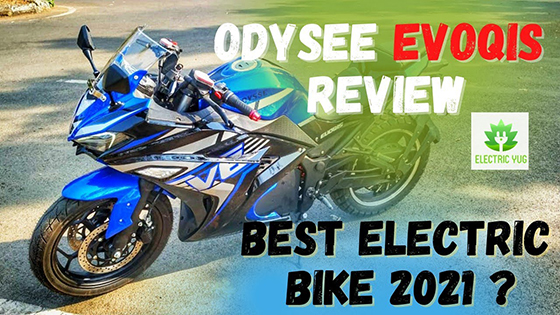 Odysse Evoqis Electric Sport bike Price 2021, Range, Features, Specification Detailed Review
Odysse Electric Bike (Evoqis) India's first fully faired electric sport bike has been launched a couple of months ago which promises a good range, decorous performance and affordable cost.
When we think about Electric Vehicles in India there are always electric scooters and electric cars in our mind. But Odysse Electric Bike (Evoqis) is the first electric sport bike in India. You will find more in this review.
Team ElectricYug is concerns about the environmental changes and puts little efforts to promote the electric vehicles and renewable energy sources. In Today's blog of electric scooter we will mainly focused on Odysse Electric Bike (Evoqis)  in India.
Odysse Evoqis Electric bike Price in India starts at Rs. 1.50 Lacs. Odysse also has other popular models i.e. Odysse Hawk, Odysse Racer and Odysse E2GO. We discussed about E2GO in our previous blog. 
Odysse Evoqis Electric Bike Overview
In sync with the Indian government's policies to promote and adoption of electric vehicles in the country, Odysse Electric Vehicles Private Limited (Odysse EV) launch of its first Electric Sport Bike Evoqis in india.
Using majorly local components Evoqis is made in Ahmedabad, Gujrat. The sales have been carrying out by 11 showrooms right now across India. Odysse Electric Bike (Evoqis)  Showroom is located in various cities of Gujrat, Madhya Pradesh, Maharashtra, Karnataka, Andhra Pradesh and Telangana. For the availability, we suggest to contact Nearest Odysse Electric bike and Scooters dealer in your city.
Does Odysse Electric Bike (Evoqis) is worth buying? Well we spent a complete day with bike to get all the answers for you at Odysse Dealer which is located in Samata Nagar, Vasai west, in Palghar District of Maharashtra on dealership name of Rides Electro Electric Scooter and Bikes.
Owner of the Dealership Mrs. Priyanka are so good to the customers and team ElectricYug that they provided a test drive of the vehicle and give complete information and knowledge about their products.
Odysse Electric Bike (Evoqis)
At a first glance the design of Evoqis looks quite attractive and bigger in size and it's inspired by certain traditional Japanese sports bikes. At the front apron, like most modern days super bikes, LED Projector Headlight with LED DRL feature are stills the heart.
Sharp character lines, semi-digital instrument console enhances the outlook. Semi-Digital console includes battery charge, speed, trip meter, Odometer and the turn Indicators.
Vehicles have significant looks from side. Both at front and rear 17 inch alloy wheels are given which provided Ground clearance of 170 mm i.e. good enough for Indian road conditions.
Overall length, width and height of the Odysse Evoqis bike are 2060mm, 740mm, 1150mm respectively with Wheel base of 1410mm is provided. With 750 mm Seat height riding position of the vehicle are comfortable and also convenient for daily commutes. 
The Gross Weight of the vehicle is about to 111 KGs. Where it can carry load up to 170 KGs. In some bikes there are noticeable and pointless stickers think you to believe that it's a BMW bike, but it's not what you see!
The plastic or the fiber part looks odd at few places overall build quality is up to the mark. Fuel tank and its lock are also provided but wish to see that odyssey could have instead made a storage space there.
Talking about the rear view mirrors in which rider can only see the brake levers. There is no use of the mirror except the sporty looks.
Odysse Electric Bike (Evoqis) Specs, Range & Performance
Odysse Evoqis propelled by 3000W BLDC electric Bosch motor which provides 6HP peak power output, while the torque is 64 Nm. Motor gets power from 4.32 kWh Lithium ion battery pack. The battery is fixed and located at usually at engine is placed.
Odysse Electric Bike (Evoqis) claims mileage or range of 150 km in a single full charge which is certified by CIRT (Central Institute of Road Transport). Also vehicle takes up to 6 hours to charge from 0-100 per cent.
15W charger helps to charge the bike. The length of the charging cord is two meters but if you live in building except the ground floor charging the bike will be an issue with fixed batteries.
Odysse Electric Bike (Evoqis) has a top speed of 90 kmph where there it has four riding modes- Drive, Sports, Reverse and addition to this parking mode is provided. It takes some time to use to with operation modes. Sports mode gives a noticeable boost to ride at highways.
As per Odysse 0-50kmph acceleration takes 4.2 seconds. With this speed you can easily manage to overtake in between traffic conditions. At sport mode you can feel the best experience and the higher speed. There is power lag at the sudden acceleration.
Odysse Electric Evoqis have Dual discs in the front and a single disc at the rear. There is absence of ABS or CBS braking systems. Bump absorption could be better as the bike feels quite stiff.   
Odysse Evoqis features include adjustable windshield, remote start, Push button start and anti theft lock. Evoqis have Fire Red, Lime Green, Magna Silver, Candy Blue color variant.
Company offers three year warranty on the battery and one year manufacturing warranty on the bike. For servicing of the bike, company scheduled maintenance appointments at six month, nine month and at the 12 month.
Odysse seems to have a good product but also with a little bit more qualitative components this will be a breakthrough product for this segment.
Thanks and regards to Odysse Electric Scooter and Rides Electro Electric Scooter and Bikes, stay tuned!
Odysse Electric Bike (Evoqis) Detail Specification
| | |
| --- | --- |
| Odysse evoqis | 1.50 Lakhs Rs. (Ex- Showroom) |
|   |   |
| Colour | Fire Red, Lime Green, Magna Silver, Candy Blue |
|   |   |
| ICAT/ARAI Approved | Yes |
|   |   |
| Dimensions And Weight |   |
| Kerb weight | 111kg |
| Length | 2060 mm |
| Width | 740 mm |
| Height | 1150 mm |
| Seat Height | 750 mm |
| Ground clearance | 170 mm |
| Maximum Payload | 170 kg |
| Under Seat Storage | NA |
|   |   |
| Suspension |   |
| Front | Hydraulic Telescopic Forks |
| Rear | Double shock absorbers |
| Wheel and tyre |   |
| Wheel size | NA |
| Wheel type | Aluminium Alloy Tubeless |
| Front tyre | NA |
| Rear tyre | NA |
|   |   |
| Motor specifications |   |
| Rated Power | 3000 Watt, BLDC motor (Waterproof) |
| Peak Power | NA |
| Controller Type | E-ABS (Electronic – Assisted Braking System) with regenerative energy |
| Acceleration (0-50Km/h) | 4.2 Sec. |
| Waterproof | Yes |
| Motor Warranty | 3 Years* |
|   |   |
| Battery Specifications |   |
| Battery type | Lithium -ion |
| Battery | 4.32 KWH Lithium-ion (Fixed Battery) |
| Battery range | 140-150 km/ full charge |
| Charging time | 6 Hours |
| Charger Specification | 15 W charger |
| Fast charging | No |
| Battery Warranty | 3 Years* |
|   |   |
| Brake specifications (E-ABS) |   |
| Front brake | Disc |
| Rear brake | Drum |
|   |   |
| Standard feature and Lightninhg |   |
| Display Type | LCD |
| Speedometer | Yes |
| Tachometer | Yes |
| Trip Meter | Yes |
| Battery indicator | Yes |
|   |   |
| Comfort And Convieniens Features |   |
| Pillion seat | Yes |
| Pillion Grabrail | No |
| Keyless Start | Yes |
| Security | Anti-theft Smart Lock |
| Headlight | LED with DRL |
| Taillight | LED |
| Mobile App Connectivity | No |
Pros
Manufactured in India
Loaded with features
Decent range of 75kms
Conventional design
RFID Activated system
Q Park Assist feature
Cons
Takes 5 hours for a full charge
No faster charging available
Available only in Bengaluru
Costs over Rs 1 lakh
Low quality of charging socket flip cover
One more low ground clearance