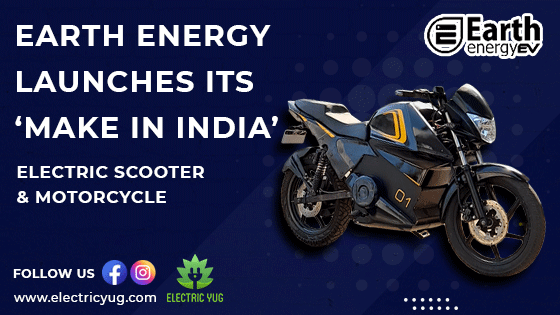 Electric Scooter & Motorcycle Overview, Features, Prices
Earth Energy Electric Vehicle manufacture a Vasai, Maharashtra based company introduces its 3 electric vehicles includes 1 electric scooters and 2 motorcycle at the start of the month of February. Earth Energy Launches it's 'Make In India' Electric Scooter & Motorcycle to make India Proud.

Earth energy offers the electric two wheelers segment with three new electric vehicles in the Indian market. This make in India startup has launched the electric scooter Glyde+ and 2 electric motorcycles Evolve R and another owne is Evolve X. 

According to Earth energy the company uses Indian original equipment manufacturers (OEM) products for its power solutions and components for its EVs. The new range is 96 per cent localized that was made possible by tying up with Indian OEMs and domestic auto part manufacturers.

On this launching event Earth Energy's CEO Mr. Rushi S. said that, "The EV industry in India is emerging on account of various factors such as increasing petrol prices and stringent emission norms. We feel that consumption of EVs will go up now than ever."
Specification of Earth Energy Products
Mumbai based start-up earth energy has the potential for becoming a leading manufacturers in this electric vehicle segment and with all new 3 electric vehicles on Indian platform.
Talking firstly about Earth Energy Glyde+ electric scooter the vehicle is powered by a 2.4kW electric motor that reaches to top speed of 60 km/h and provides 100 kms range with single full charge. The maximum power output is 2.4 kW (3.26 hp) and provides 26 N-m torque. Bajaj Chetak and TVS iQube, etc are the rival to Glyde+.
The Glyde + model use a 52 Ah lithium-ion battery. The battery can be charged from 0-80 per cent in 40 minutes using a fast charger, while the standard time is 2.5 hours. We already discuss about Bajaj Chetak and TVS iQube in previous blogs. For Glyde+ the pricing are set up to Rs. 92,000.
Earth Energy Evolve R electric motor cycle segment electric 2 wheeler also has been launched in this event. Evolve R has electric motor with its classy and sporty design with 96 Ah Lithium Ion battery which gives range of 100 kms. . Like the Glyde+, the battery takes fast charge time stands at 40 minutes and a full charge will take 2.5 hours. Maximum power output by the electric motor is 5.3 kW (7.2 hp) while peak torque output is 56 Nm. The price of Evolve R is Rs. 1.42 (Ex-Showroom Price) Lakhs and it has a rivalry with famous Indian electric motorcycle Revolt RV 300.
Another and third launch by Earth Energy Evolve Z electric motorcycle which is top of the line, Evolve R has the maximum power output electric motor delivers 12.5 kW (17 PS), offering peak torque of 54 Nm. Evolve has max top speed of 110 kmph with range of 100 kms in single full charge. Price of Evolve Z is Rs. 1.30 (Ex-Showroom Price). Charging time for all 3 EVs is 2.5 hours while 0-80% charging is achieved in 40 minutes via fast charging.
Colors, Features of Earth Energy's New Launches
All three electric vehicles offered in 3 colors of – Marshal Grey, jet black, and white. When we discuss its features many features are common to the earth energy electric vehicles.  

All three vehicles get an LCD display that is connects via a phone application will help to riders in day and night times. It also shows various functions like Battery SOC, real-time range and TBT (turnabout time) navigation, etc. Automatic headlights are provided for effortless riding for day and night mode. While the app will digitally clone the user's vehicle and diagnose any issue with up to 270 parameters. The users can also book the maintenance services using the app.

The Earth Energy, come with advanced features called Smart in True Sense. The company claims that this is first in technology. This is technology works on internet connected featured application. This tech helps the rider to keep live navigation status, incoming calls/messages alert, trip history, and current destination on-screen for the confidence-inducing uninterrupted ride. The app also allows the third party usage model for food delivery agents. The entire order mapping can be easily done on the display screen itself
The Earth energy ensures that customers can buy the product from selected dealers and distributors and trade partners for bulk orders appointed across India. While company has not disclosed its investments and future plans, the company has said that it has established a 7,000 Sq.ft. R&D centre in Earth Energy EV, Vasai, outskirts of Mumbai. The company has the capacity to build about 12,000 two-wheelers per year and is also producing lithium-ion battery packs in-house.

All buyers of the Earth Energy EVs will get free charging for the first year, and the company will also set-up a charging station at the user's home. The Earth Energy plans to open 45 dealerships in its first year of operations, while the electric vehicles will be available online as well for purchase.

Earth Energy Electric Scooter, Founder, Rushi Shenghani stated that Earth Energy Electric Vehicle company will work on price factor of the upcoming vehicles very efficiently and offer customers various buying options so as to make the transition to EVs affordable and comfortable to every common buyer by localizing of the EV's parts.