Introduction of Strom R3 Electric Car
Strom Motors is Mumbai, Maharashtra Based start up Electric vehicle manufacturer, design and developed a three wheeled and two door electric car named as Strom R3 which is cheapest electric car in India.

It has two wheels at front and one wheel at rear which is called as Reverse Trike Design. 

Strom R3 is more efficient as compared to conventional fuels vehicle with more savings, 40 % less weight, 80% less maintenance and less air pollution which makes this vehicle suitable for everyday personal use. Strom R3 electric car price in India is about 4 Lakh rupees.

Strom R3 can run with top speed of 80 Kmph which best suitable for daily traffic and commuting in urban congested areas like Mumbai, Benguluru and Delhi. This gives a claimed range of 200 Km in complete full charge.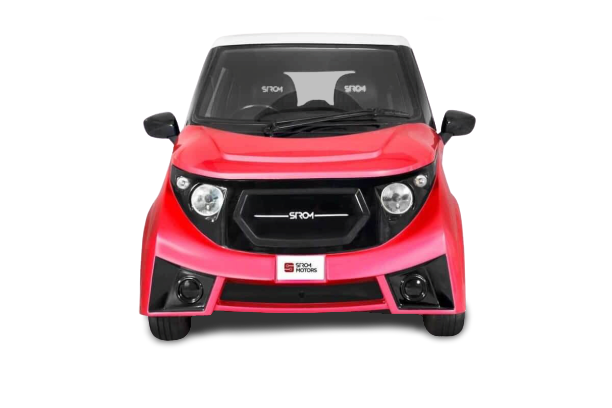 Inside of the cabin Strom R3 has some interesting features like a fully customisable dashboard with 7 inch full triple brightness touch screen interface display, and 4.3 & 2.4 inch Digital auxiliary displays and voice and gesture controls.

Also Strom R3 features include 3 Point seat belts, 12-way adjustable driver seat, 4G connectivity with GPS, on board navigation are provided. In infotainment IOT enabled continuous monitoring system, gesture control short-cuts and much more are featured. 

R3 also offers with climate control air conditioning system, Driver and passenger side power windows and Remote keyless entry.

The Strom R3 introduced with a cargo capacity of 300 Litres at front and 100 Litres at rear. And this compact electric vehicle also provides nice large sunroof and rear roof – linear spoiler.

The Strom R3 came with two different seating options a normal two seater or a three seater. That is it has two long seats and an added one small seat in the between.
The chassis of the three wheel electric car has been made of high strength carbon steel space frame. Kerb Weight of Strom R3 is 550 Kg. At front it is mounted with Mc Person strut suspension and Dual shork absorber set up at rear.

The vehicle is 2,907 mm in length, 1,450 mm in width, and 1,572 mm in height, and it has a 2,012 mm wheelbase. It has ground clearance of 185 mm. For references we say it is smaller than Tata Nano.

 For braking it has a hydraulic disc brake at front both Alloy rim wheels and drum brake for rear stamped steel rim wheel along with it comes with Regenerative braking system. All wheels gets 13 inch and 155/80 tyre size.

 In terms of Strom R3 specifications, this gets works with 15 KW AC induction Motor with electronically controlled throttle and this powerful motor produces Maximum Torque of 90 Nm at the wheels.

The car gets a powered from a Lithium – Ion Battery pack the on which strom motors gives Life time warranty and the battery has life span about 1 Lakh Kilometres. Also company provides 15,000 Km or 1 year manufacturing warranty whichever comes first.

The Strom R3 has 3 has come with three range Variants options that are 130 Km, 160 Km and 200 Km. It has Automatic single speed Inline Gear box which having mode like Eco, Normal and Sports.

When talking to Strom R3 charging features it has on-board charger supports type-2 charger for fast charging. These type-2 public chargers are available around at charging stations in India.

Charging time of strom R3 is about 3 hours and for 1 Km it cost only Rs. 45 Paise in Indian currency.

Strom R3 is available in two tone metallic colours. Mainly it has four colour variants Red, Black, Neon Blue and Electric Blue.

Whereas Strom R3 price in India makes this electric three wheeler an affordable electric car of India.

This Mumbai based strom motors introduced and participated at Consumer Electronics Show (CES) 2020, which is held in Las Vegas, USA. Rather than this Strom Motors was get recognize as a top 10 start-ups by government of India in year of 2018 by Economics Times

Strom motors are also awarded of coveted spirit of Manufacturing at Tiecon Global summit which was held at New Delhi, India in November 2019. It also passes all regulations and got the homologation certification from the Government.

The strom R3 booking has already started at 01 February, 2020 and strom R3 launched in cities like Mumbai, Pune, Hyderabad, Delhi NCR and Bengluru.

We are also providing a Strom Motors websites for more related information at www.strommotors.com